Processing
Community
Day
@Aarhus
2023
Saturday,
Sept 30th
10.00–18.00
@DIDAKTEKET
Arkitektskolen
Aarhus
Re:search — data visualizations as transcription
Workshop lead: Renée Ridgway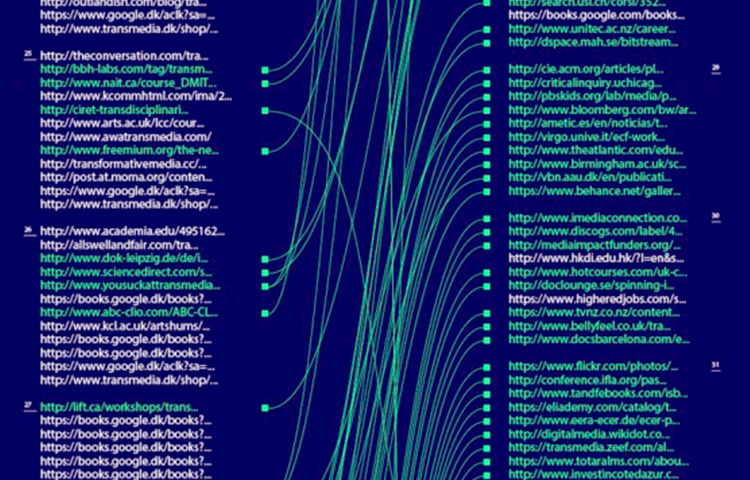 Sign up for workshop here. Participation is free of charge.
This workshop will engage with searching online, comparing Google search results to results obtained with alternative search engines (your choice!). The process of gathering data includes saving complete webpages which are then exported as CSV files, extrapolating the URLs to Excel and then using Processing software to visualize diverse ranking and unique hyperlinks (search results). As practices of representation these 'critical cartographies' seek to intervene and give shape to the world by making invisible infrastructures more tangible. Bring your laptops and 'keywords'.
BIO: Renée Ridgway is a researcher, educator and media artist, having studied at the Rhode Island School of Design (BFA)/Brown University, Piet Zwart Institute/ Plymouth University (MA) and Copenhagen Business School in their Management, Philosophy and Politics department (PhD)/Leuphana University, Digital Cultures Research Lab (DCRL). https://research.cbs.dk/en/publications/research-the-personalised-subject-vs-the-anonymous-user
Selected international solo presentations include Der Geist des Überwachens, Museum Lichtenberg Studios, Berlin, DE (2018), Performing Archive, Astrid Noacks Atelier, Copenhagen, DK (2017), The Revelation of the Concealed, Onomatopee, Eindhoven, NL (2012), The Wanted Land, David Hall Gallery, Fort Cochin, IN (2012). Selected international group exhibitions include 'Re:search – Terms of Art', Hacking Habitat, Utrecht, NL (2017), 'Hortus Malabaricus', dOCUMENTA (13), Winning Hearts and Minds by Critical Art Ensemble (2012) and Migrating Democrazy, Manifesta8, Murcia and Cartegena, ES (2010). https://reneeridgway.net
Ridgway was a fellow at the Centre for Advanced Internet Studies (CAIS) Bochum, DE (2018, 2019) and in 2022, Digital Cultures fellow at Katholische Universität, Eichstätt, DE. Presently she is a Post-doctoral researcher in the SHAPE (Shaping Digital Citizenship) centre at the department of Digital Design and Information Studies, Aarhus University, DK, where she investigates the problematics and politics of Google search (privacy), along with researching its alternatives (public index) and the future of search (chatbots). https://shape.au.dk/en/news/article/artikel/in-google-we-mistrust-searching-for-search-alternatives